Stay calmer, sleep better & longer. Lactobacillus Reuteri probiotic relaxes the mind and body. This SuperGut sti...
See More
When to Consume

Once a day

30 mins after a meal
Easy Returns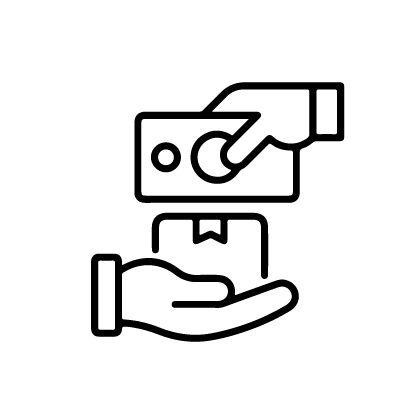 COD Available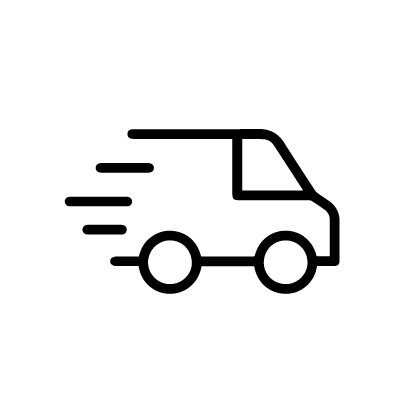 Fast Delivery
View full details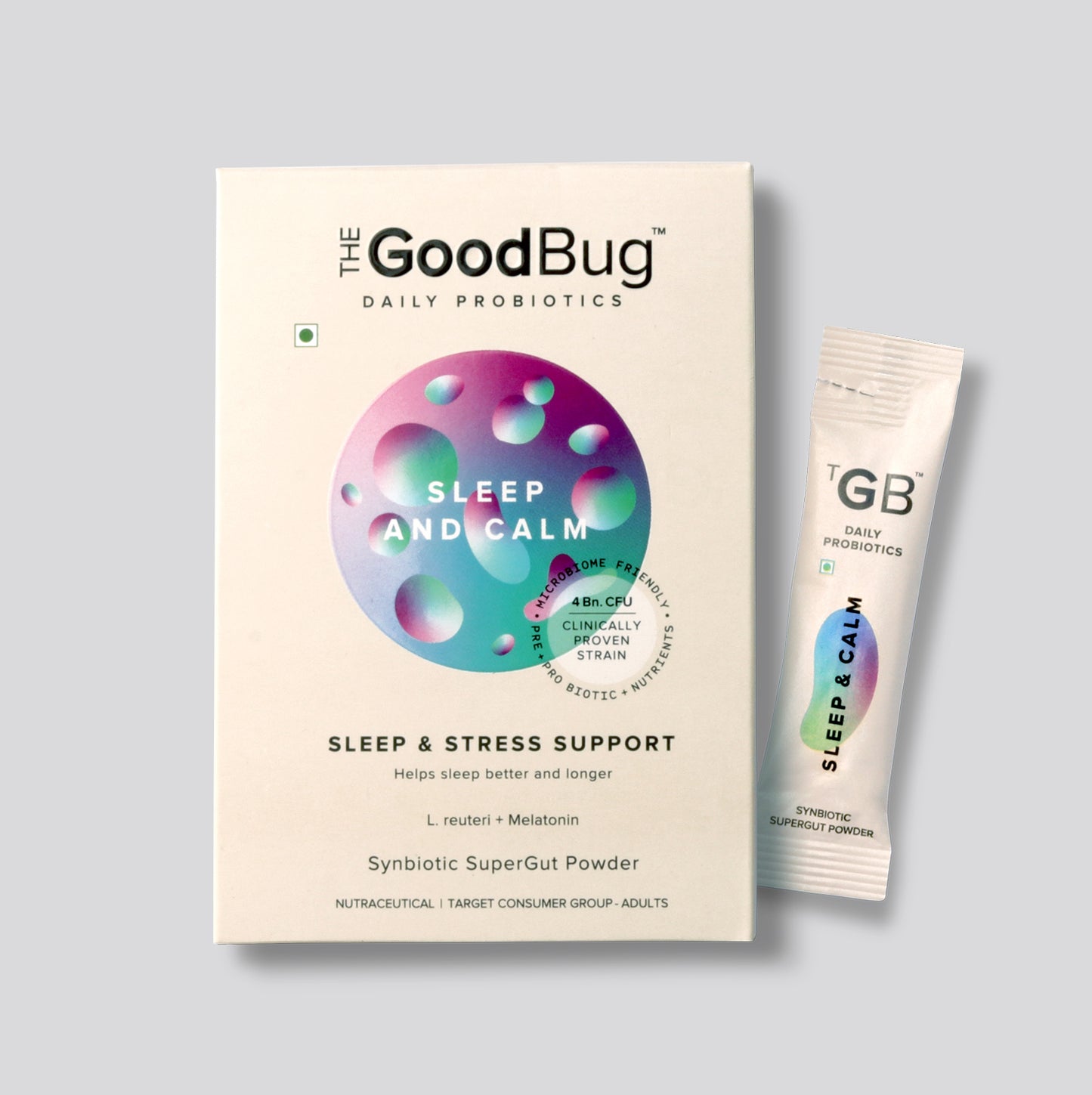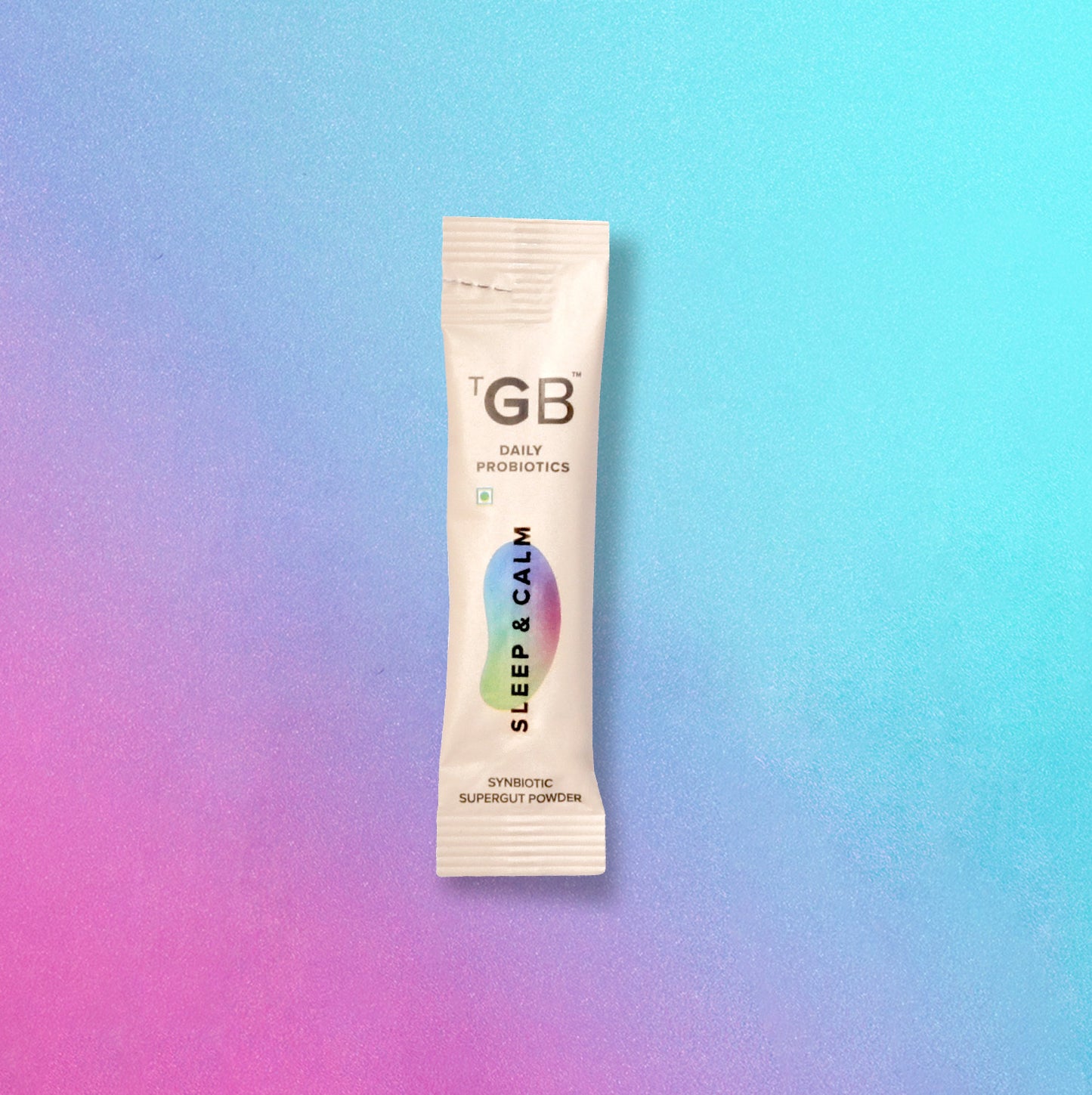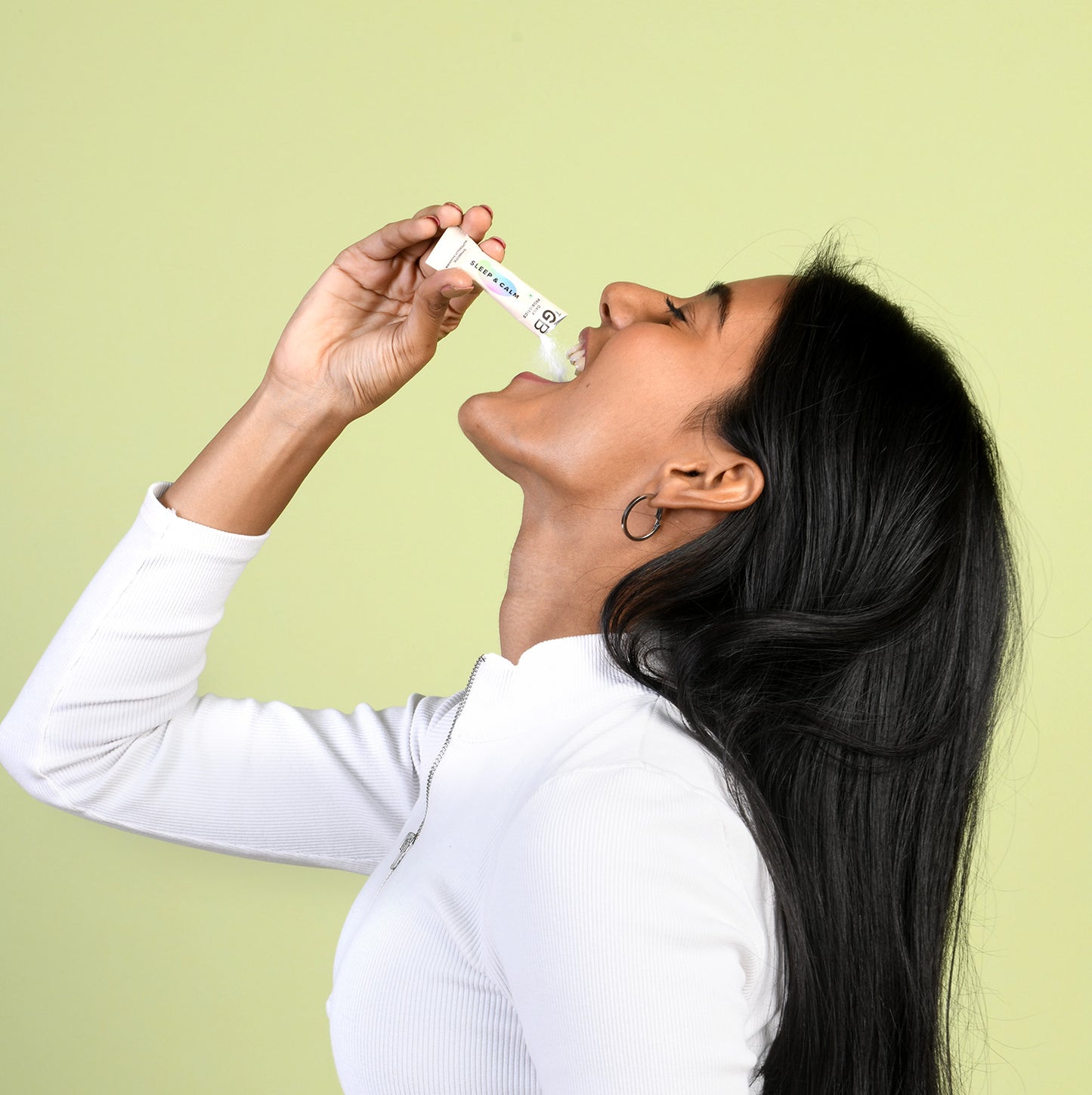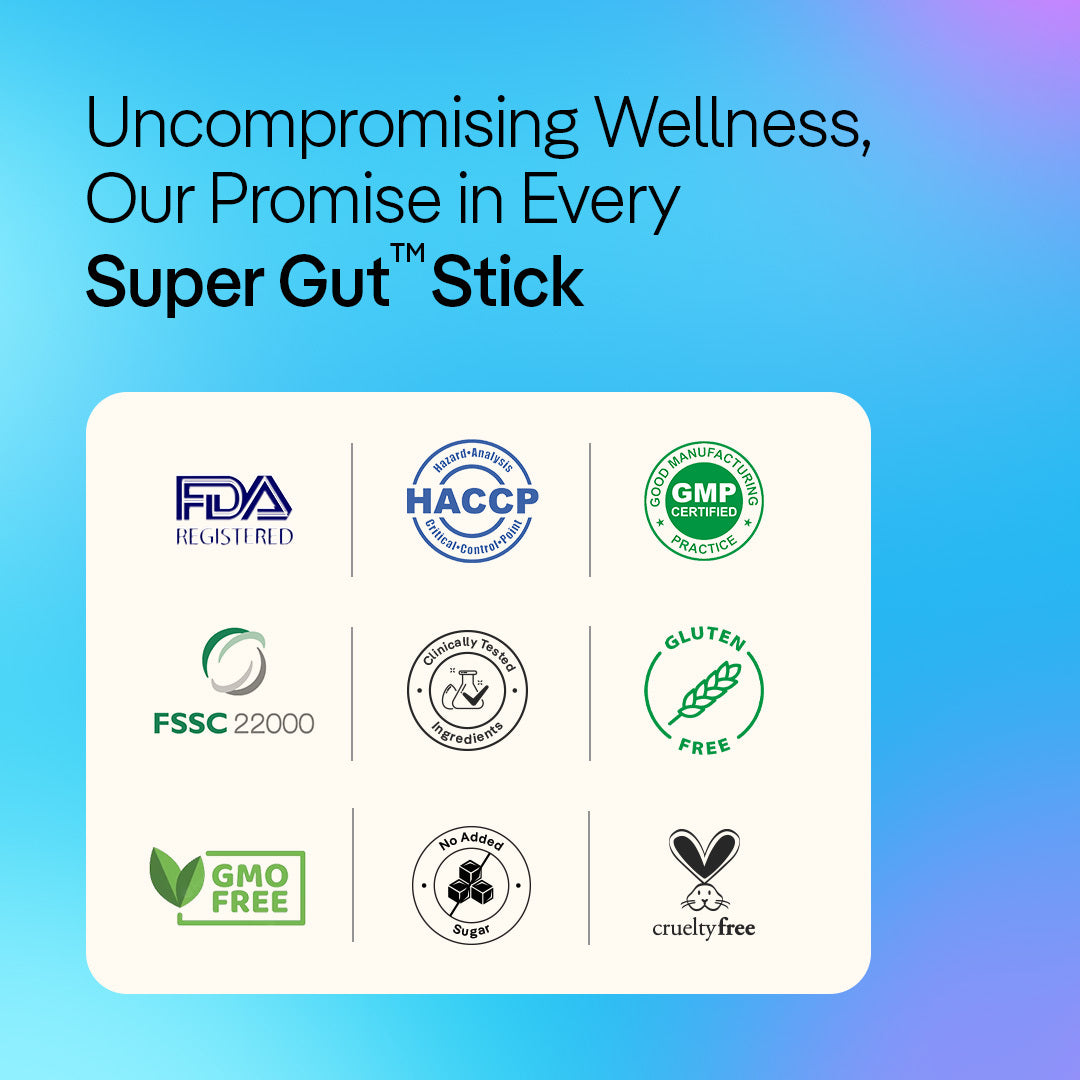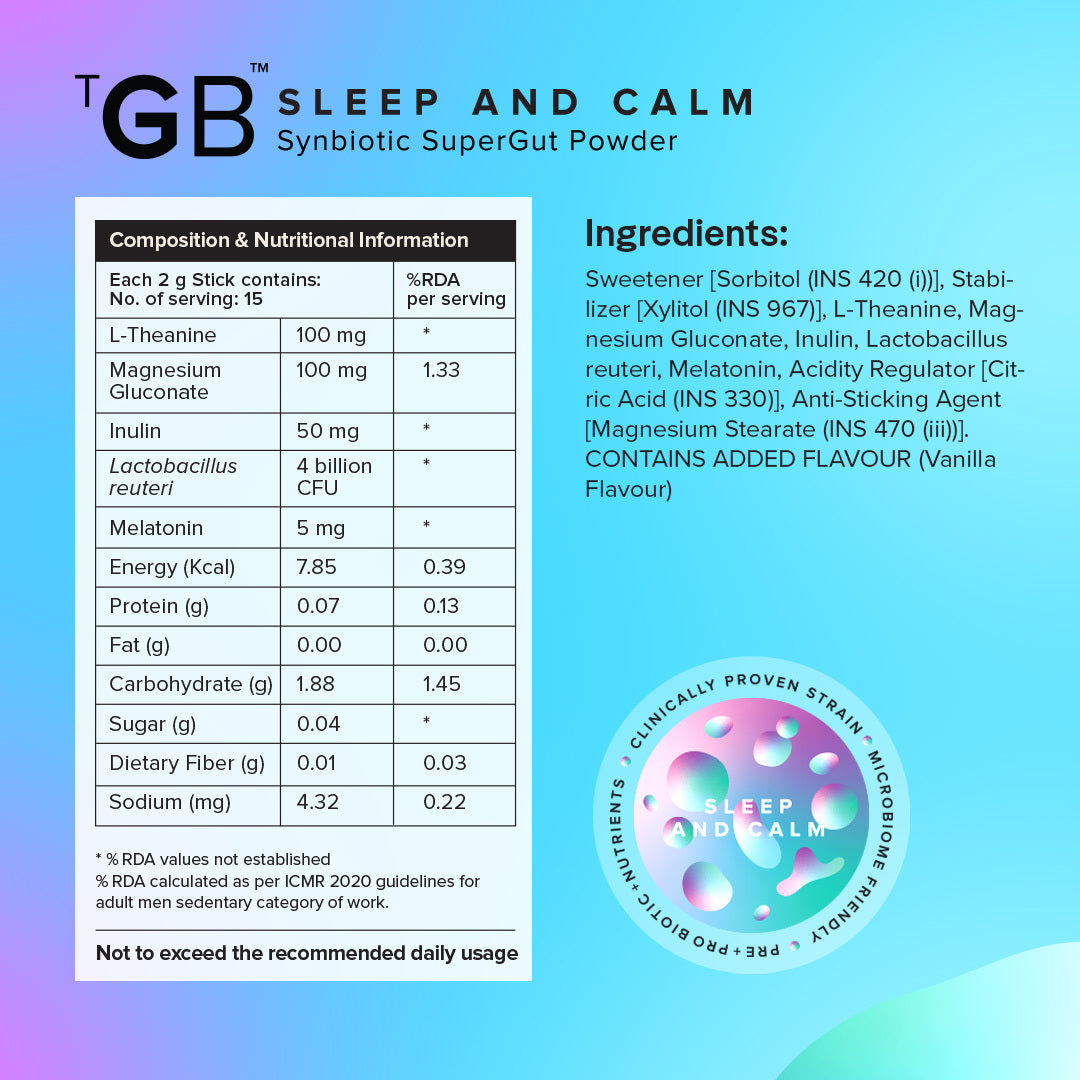 Uncompromising Wellness, Our Promise in Every Super Gut Stick
Please note, based on recent clinical studies, we recommend to consume our product after meals. Although you could consume it on an empty stomach, we've seen better efficacy when had after meals. We're updating the information across all platforms and product packaging.
It All Begins With A Happy Gut.
A Daily Dose Of Good Bugs.
It All Begins With A Happy Gut.
A Daily Dose Of Good Bugs.
It All Begins With A Happy Gut.
A Daily Dose Of Good Bugs.
Is Sleep and Calm for me?
This is the right synbiotic for you if you: Have difficulty falling asleep Frequently get anxious or stressed Are unable to sleep through the night Need to reset your sleep-wake cycle.
How it supports sleep stress?
Overnight improvement in sleep quality. Good bugs settle down in the gut.
Bacterial balance starts correcting. Better sleep reduces stress levels.
Improved sleep-wake cycle. Balanced gut supports overall health.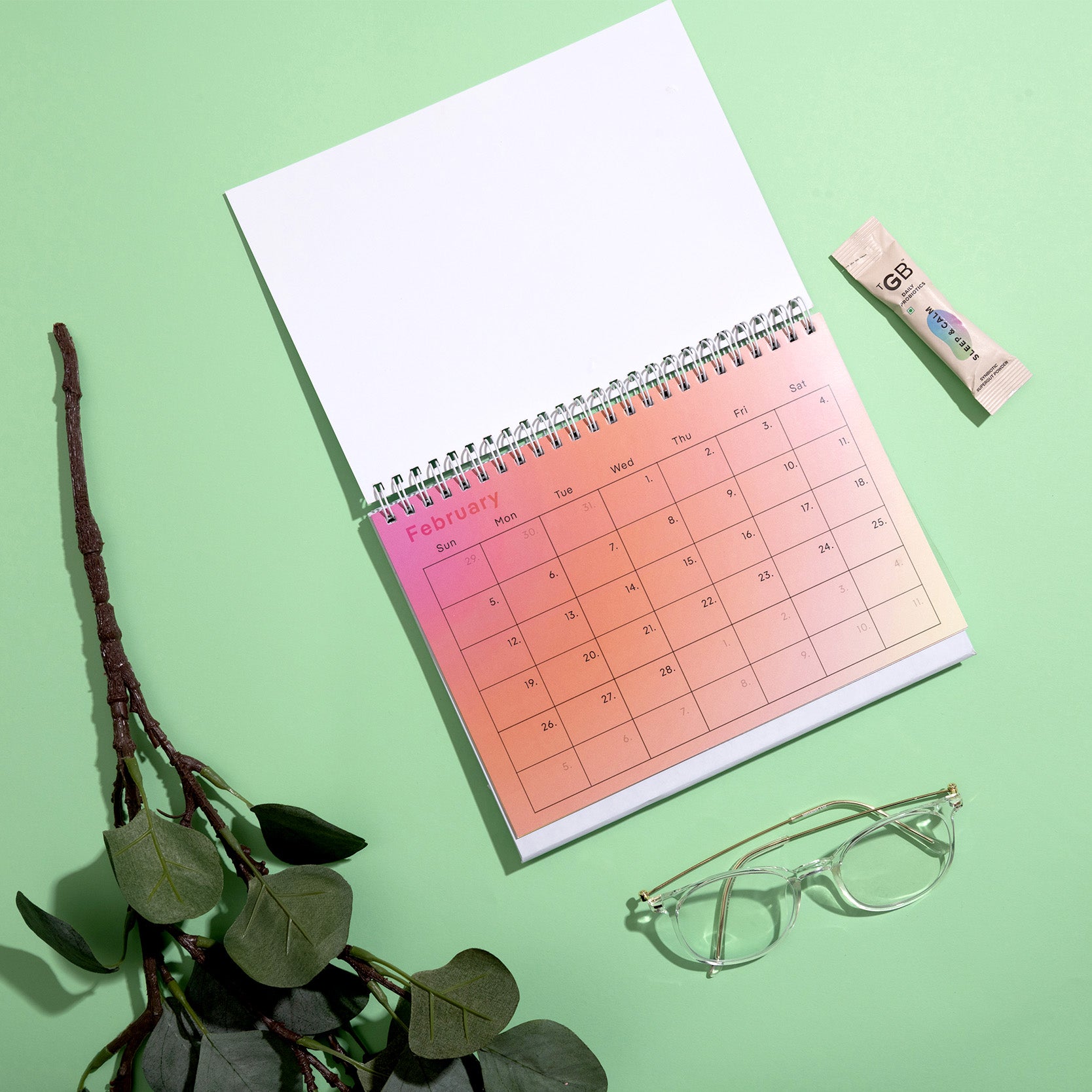 The results are out
Hundreds of people are rewriting their gut story with trillions of bacteria, you can too. No matter your age, gender or wellbeing goals, there's a good bug for you.
Good for sleep
It's a great product, I have been taking it for almost a month now, I get a doze of sleep hiting me with 30 minutes of consumption. Highly recommended.
Good night after so long
I was not being able to get a good sleep since a couple of days because of my work stress. Yesterday i tried sleep abd calm and i got a really good sleep.
Good night sleep
This give's really good sleep. I feel refreshed in the morning
Good mornings now
After using sleep and calm i get up in the morning feeling fresh.
It gives good sleep
I would really recommend sleep and calm. It gives relaxation and guarantees quality sleep.
Have a question? We are here to help.
Every gut is different and every question is special. Solve your queries with us
Will I oversleep or feel drowsy in the morning after taking this?
No, you will wake up at your usual waking time, feeling well-rested, not drowsy.
Is Sleep and Calm habit-forming?
No, it is not habit-forming at all. None of the ingredients we have added to this synbiotic powder will lead to habit formation or addiction.
What are the benefits of sound sleep?
A good night's sleep rejuvenates your mind, improves heart function, and lowers the risk of inflammation. It also heals the body, promotes growth, and helps you lose weight.
What is melatonin and is its supplementation necessary?
If you spend long hours staring at your laptop, cell phone, or television screens, you are being exposed to a lot of blue light. This interferes with your body's natural melatonin production, affecting your sleep. A melatonin supplement will help you fall asleep faster, sleep better, and wake up refreshed.
What is the connection between stress and sleep?
If you're not getting enough sleep, you could experience higher levels of stress, frustration, depression and anxiety.