" its 30% Exercise, 70% Diet , 100% Gut "
Say goodbye to bloating caused by poor digestion and gas with our Bye Bye Bloat SuperGut Synbiotic powder. Formulated...
See More
Suitable for

Bloating & gas

Acidity

Abdominal cramps
When to Consume

Once a day
30 mins after a meal
products.product.price.regular_price
₹ 699
products.product.price.sale_price
₹ 699
products.product.price.regular_price
products.product.price.unit_price
per
₹ 0
Save 0
Sold out
15 Sticks
Reduces Acidity & Gas
Lessens Burps
Improves Digestion
Relieves Bloating
Easy Returns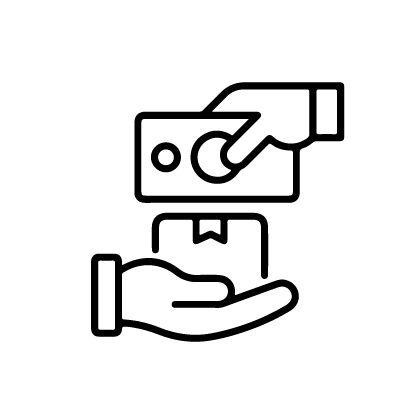 COD Available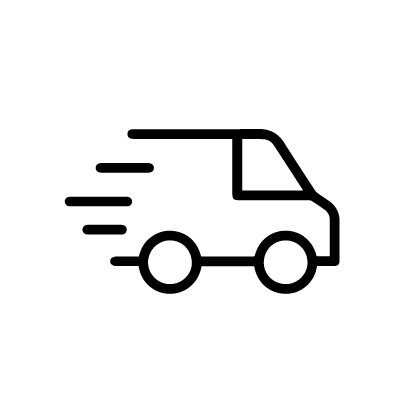 Fast Delivery
View full details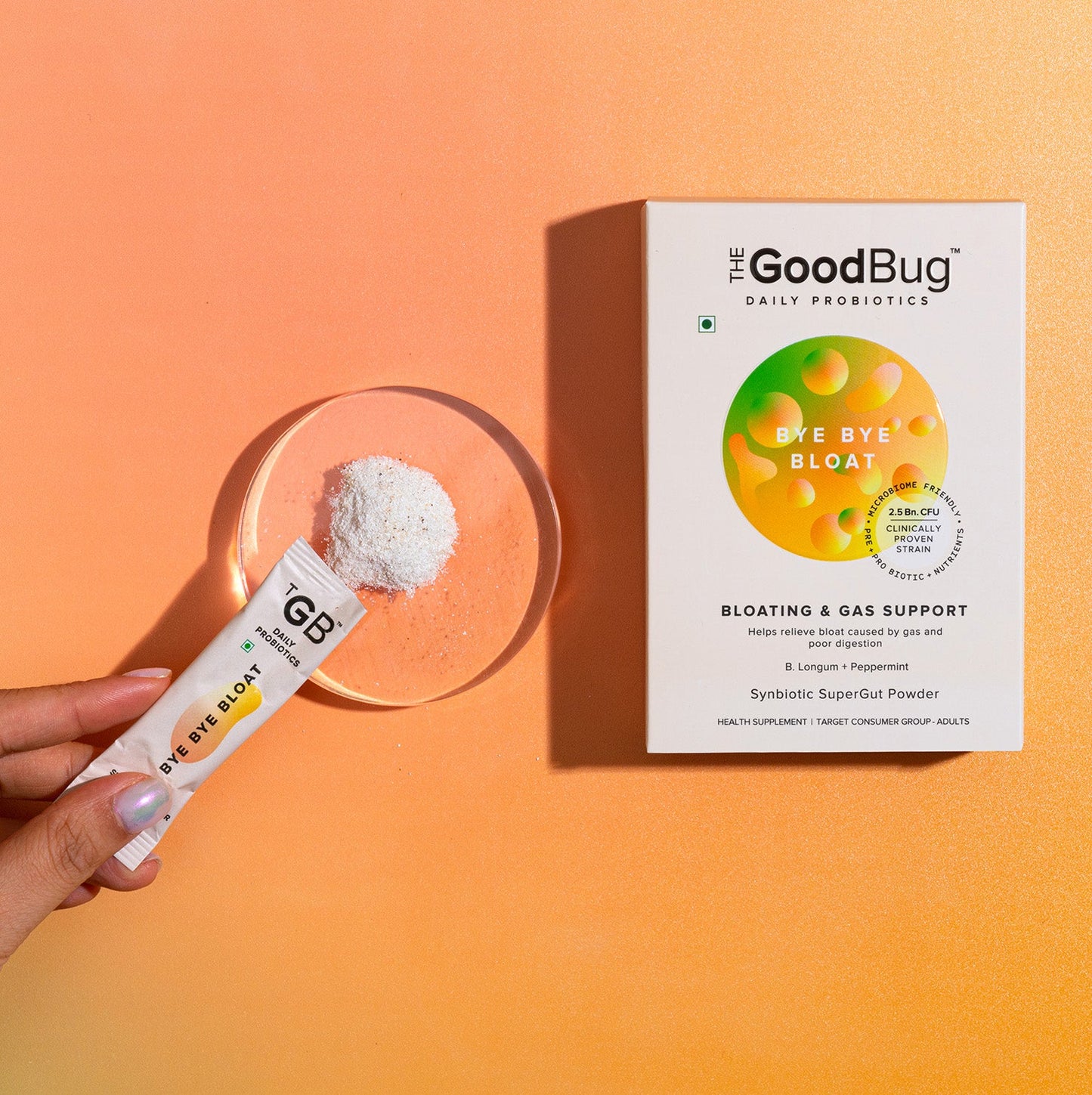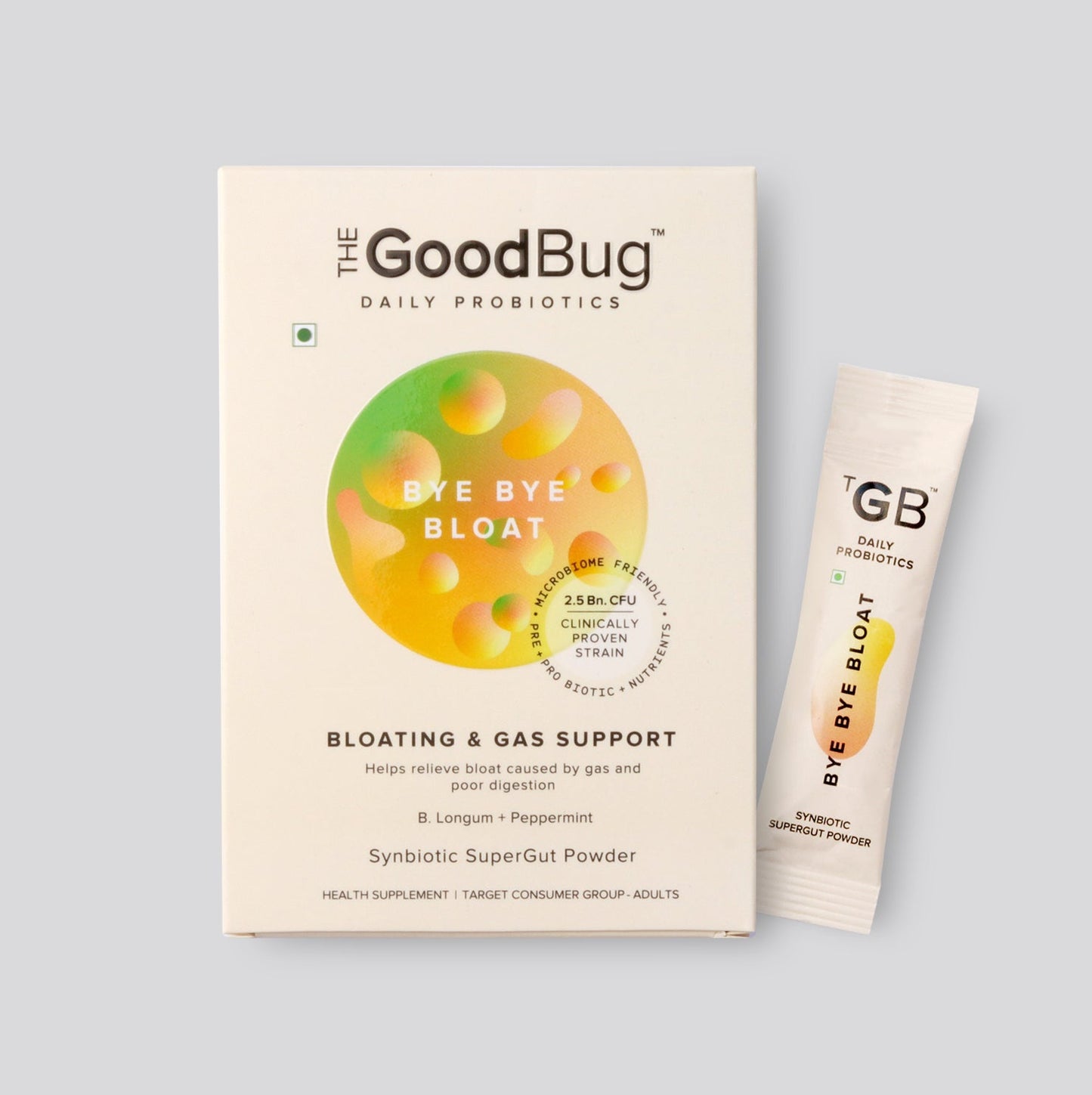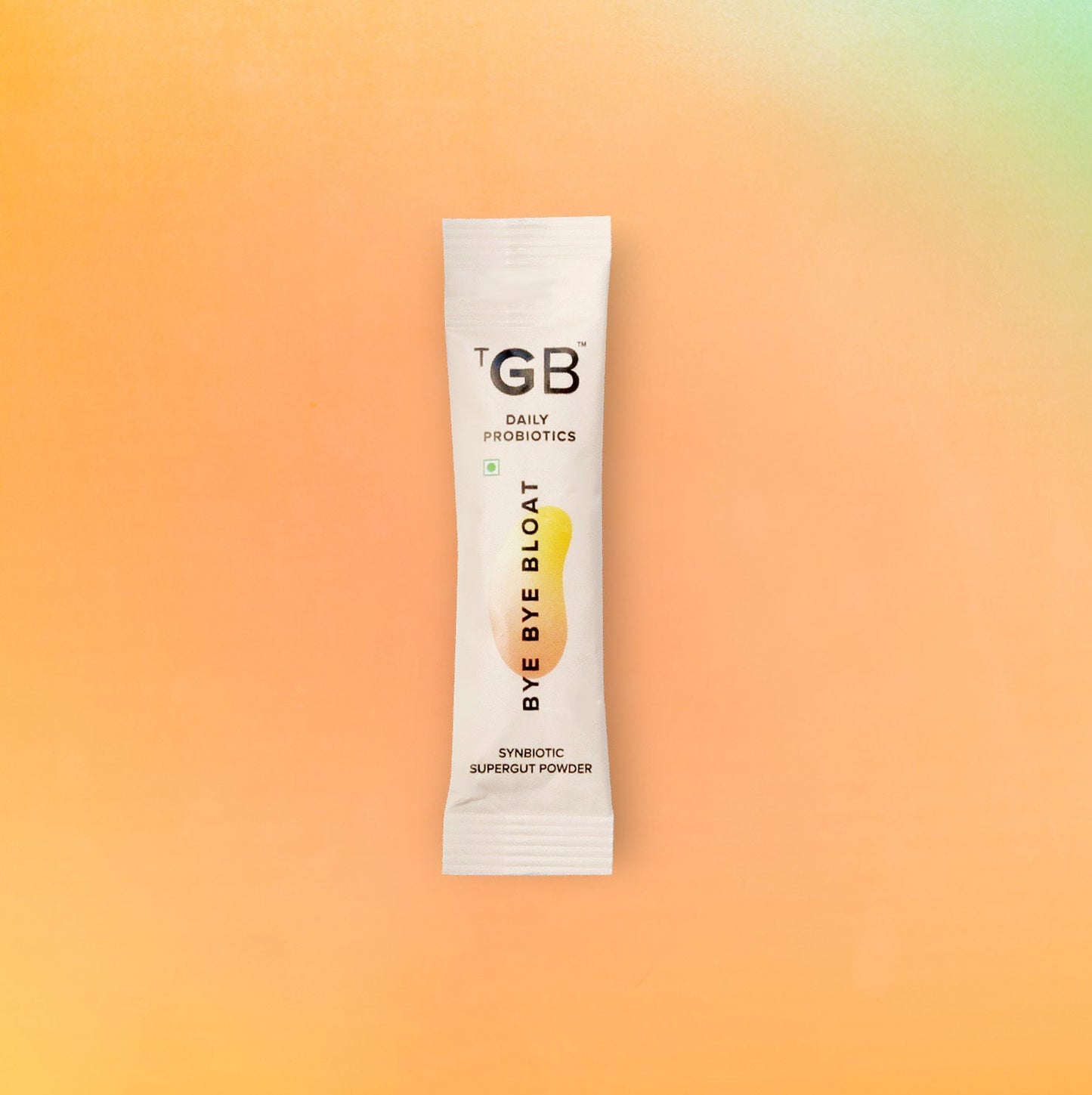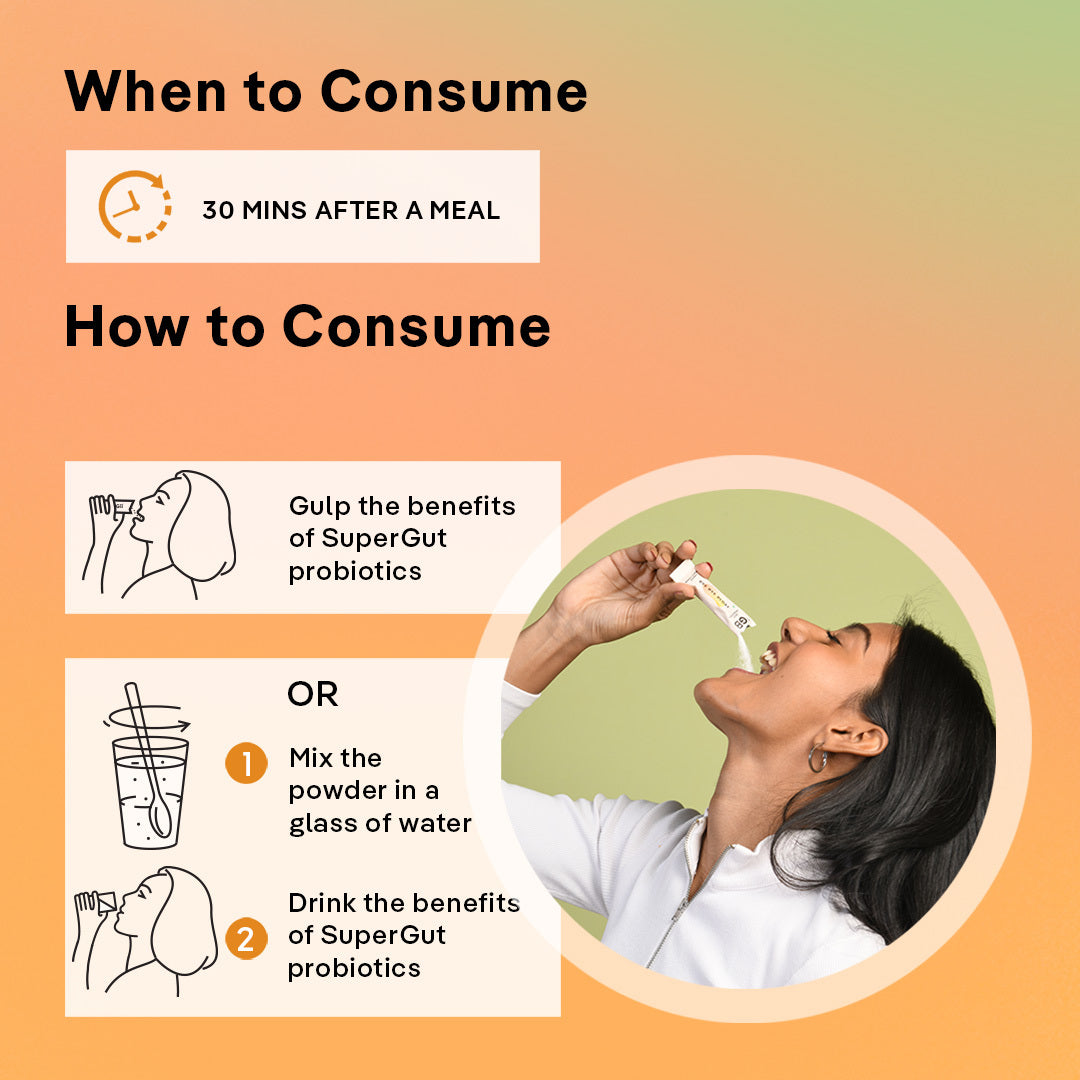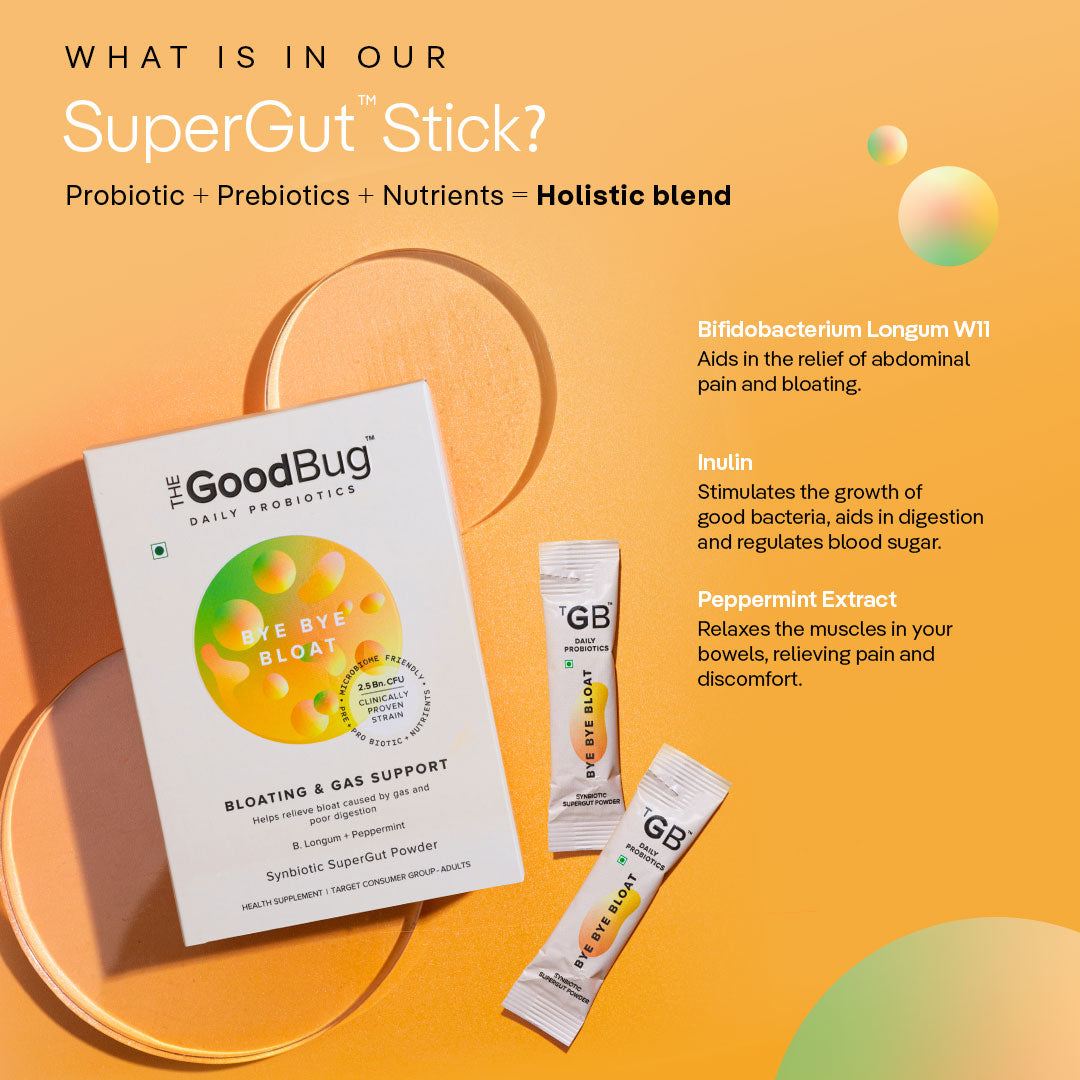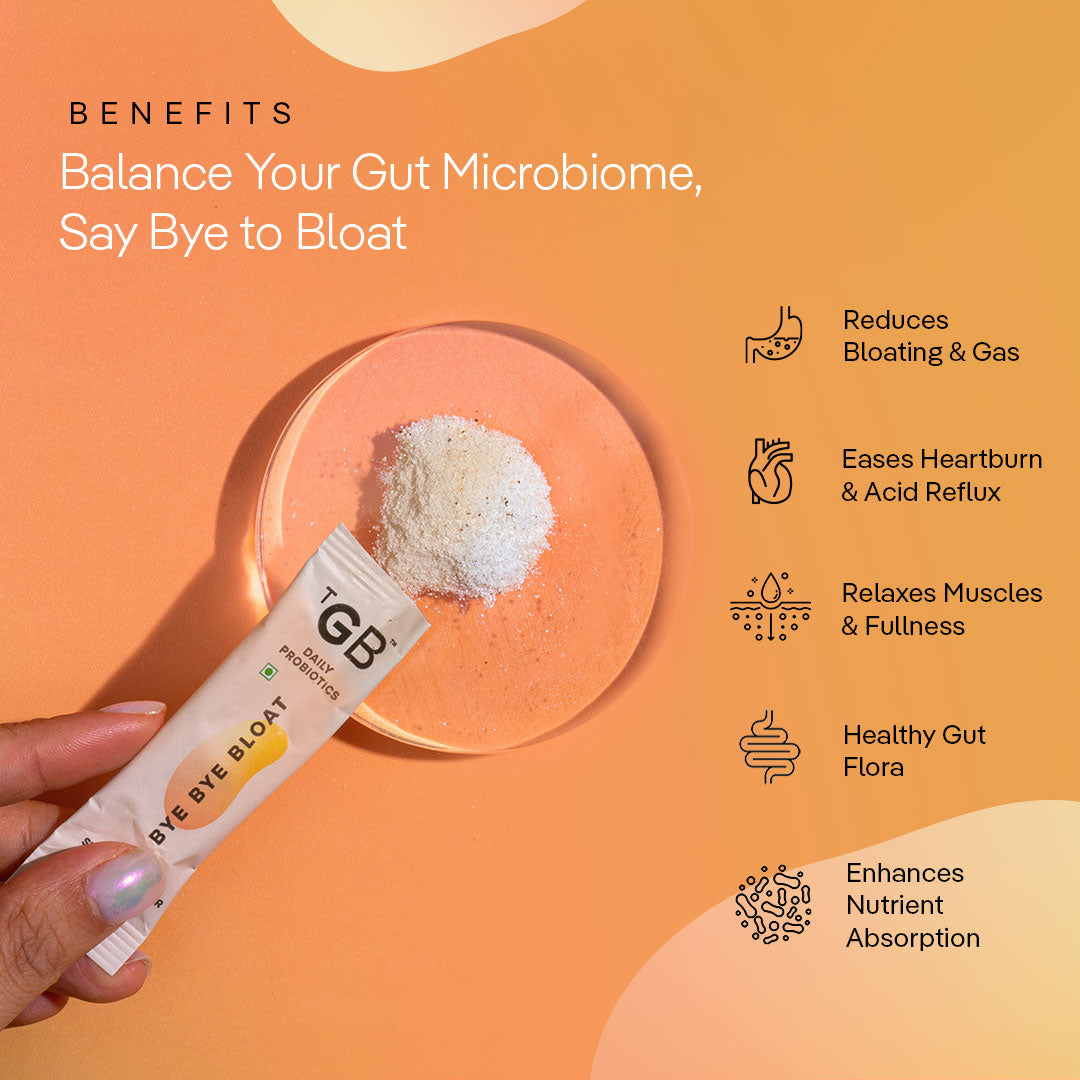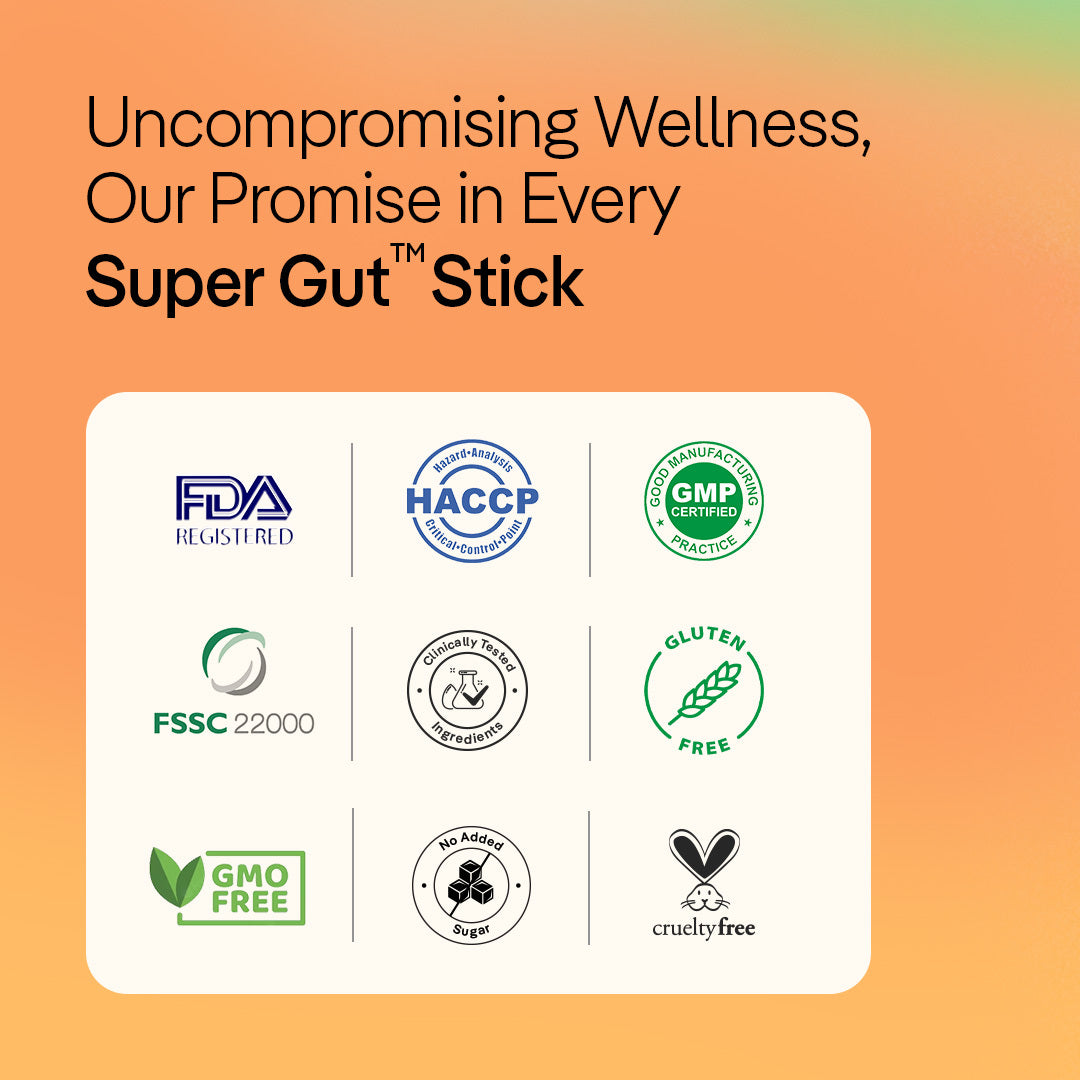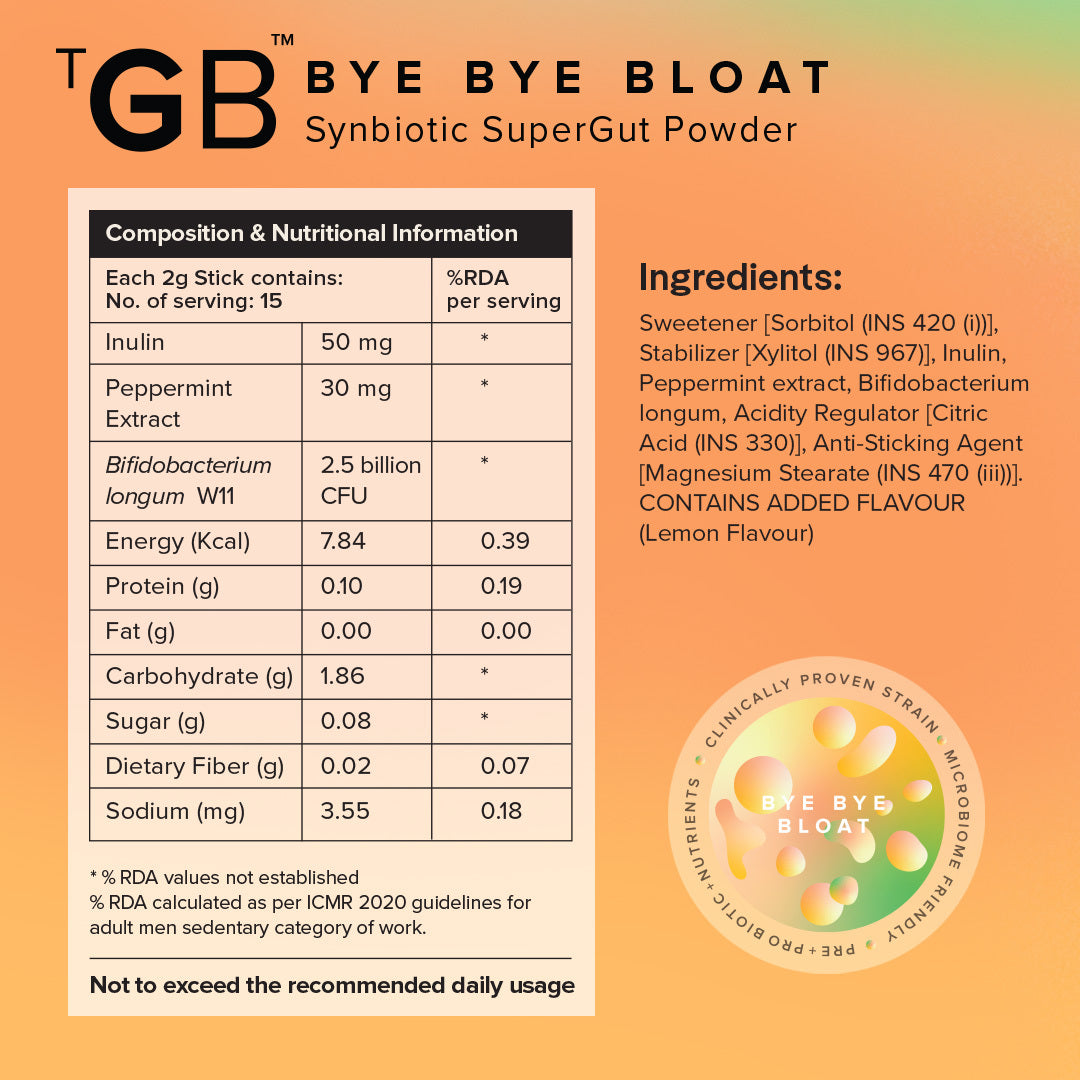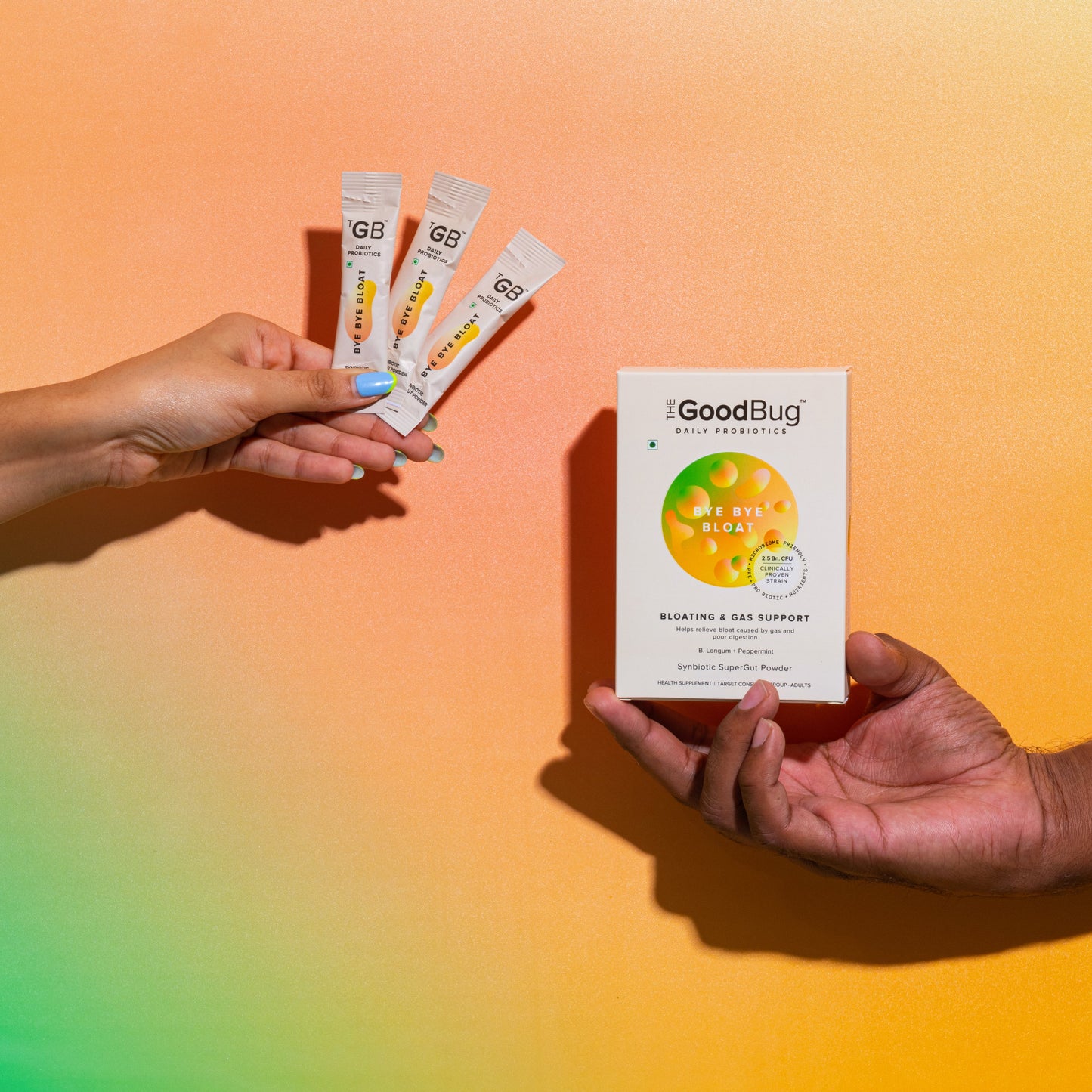 Uncompromising Science. Unshaken Trust.
No. 1
Nutritionist Recommended Brand
Do you have these symptoms ?
Do you feel bloated or uncomfortably full or tight after meals?
Suffer from occasional abdominal pain or cramps?
Frequently get episodes of indigestion, belching, flatulence or nausea?
Do these symptoms escalate during periods?
Do you suffer from weight gain due to water retention?
Then, treat the root cause with Bye Bye Bloat
Disbalance in microbiome is the root cause for these symptoms. Synbiotic formulas using clinically proven strains, this Bye Bye Bloat SuperGut stick will help restore balance and help relieve symptoms such as gas and bloating.
Are you frequently constipated ? Then Bye Bye Bloat is not for you.
Constipation could also lead to bloating. If you suffer from constipation and bowel irregularity, then we recommend that you resolve constipation, before using Bye Bye Bloat. We recommend that you try Smooth Move Supergut Stick.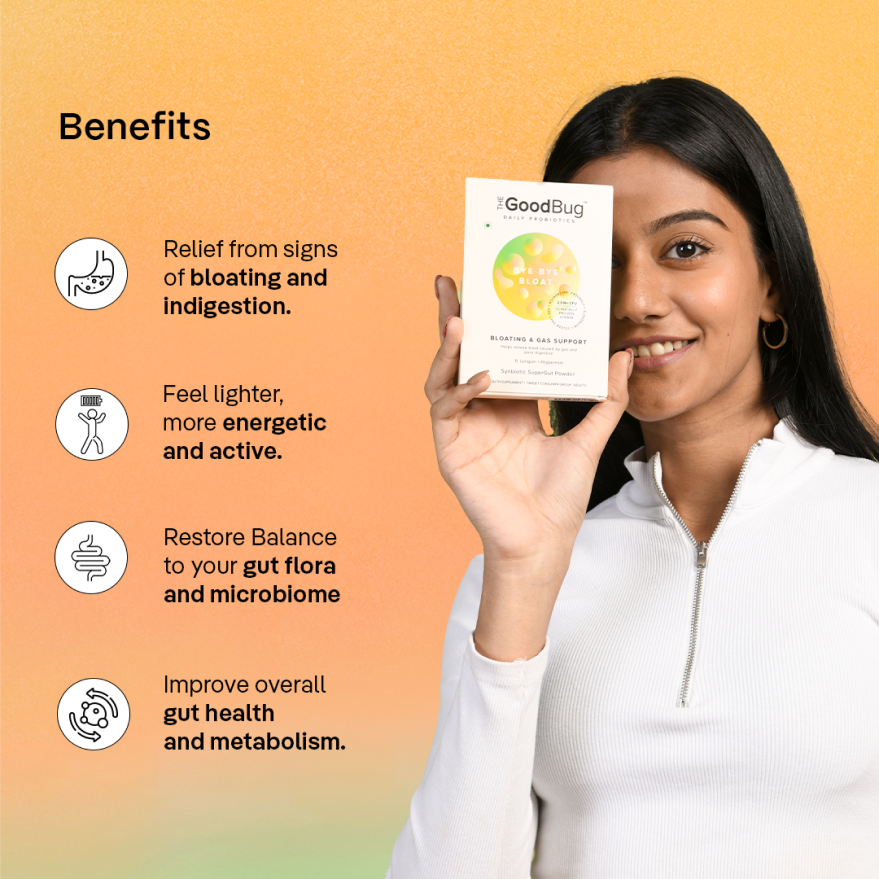 Gas is produced as a normal part of the digestive process when the bacteria living in our gut breaks down the food we eat. But then, if these gases are produced in greater than normal amounts, we start feeling all the symptoms of bloating including a full feeling in the stomach, a bloated tummy. etc.
A clear sign that there is imbalance
read more
And just how the problem has built up over time, correcting the root cause of these problems also takes time, and could work differently for different people.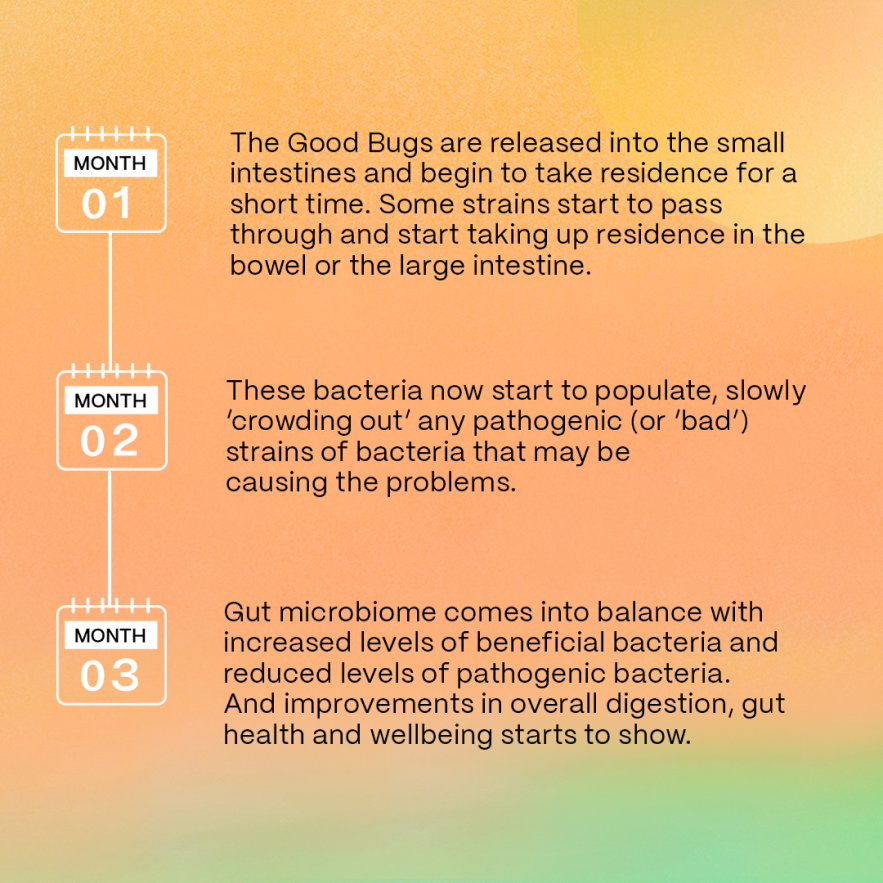 Probiotics work best when accompanied by healthy diet and lifestyle choices. Here are some reminders:
Less Frequent Eating:
Reduce snacking to promote emptying of the bowel and to reduce continuous fermentation of food.
Chew your food, slowly, thoroughly:
Improper chewing or eating too fast and swallowing lots of air can promote bloating.
Reduce Sugar Intake :
This includes refined white sugars and carbohydrates, as these may potentially feed pathogenic bacteria in the gut and cause dysbiosis
Increase Fiber Intake:
This will help to feed good bacteria and relieve constipation, by supporting regular bowel movements.
*Please note, based on recent clinical studies, we recommend to consume our product after meals. Although you could consume it on an empty stomach, we've seen better efficacy when had after meals. We're updating the information across all platforms and product packaging.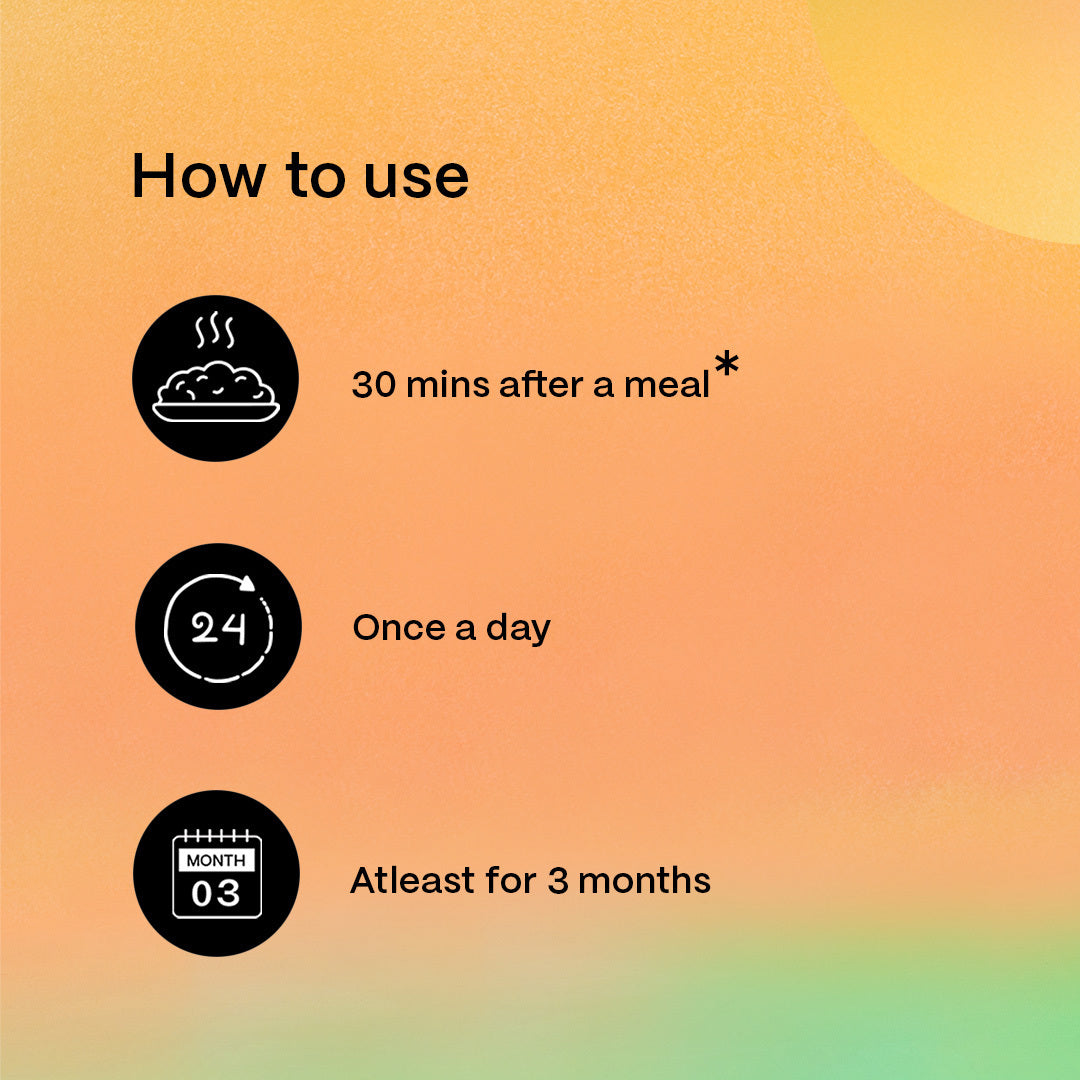 Still Need Help ??
Book a Free Consultation with our expert nutritionist team.
BOOK NOW
Bifidobacterium longum W11
One of the first microbes known to colonise your gut, it plays a vital role in alleviating abdominal pain and bloating. This resilient bacterial strain offers significant relief from conditions such as IBS, diarrhoea, and constipation. Moreover, it actively reduces the risk of gastrointestinal infections.
Inulin
A plant-based fibre that's a good source of energy. It stimulvr levels.
Peppermint extract
Well-known as a digestive aid, it relaxes the muscles in your bowels, relieving pain and discomfort. It improves the flow of bile, which helps your body break down fats, and relieves nausea. Additionally, peppermint extract has also been found to soothe muscle pain and common cold symptoms.
Xylitol
A natural sweetener that promotes the growth of beneficial bacteria without causing a spike in your blood sugar.
A clear sign that there is imbalance in certain species in your microbiome and the digestive process in not in great shape. This imbalance could have occurred over a period of time due to various factors including poor diet, high sugar levels, antibiotics, stress or even genetics.
Proof that It Works!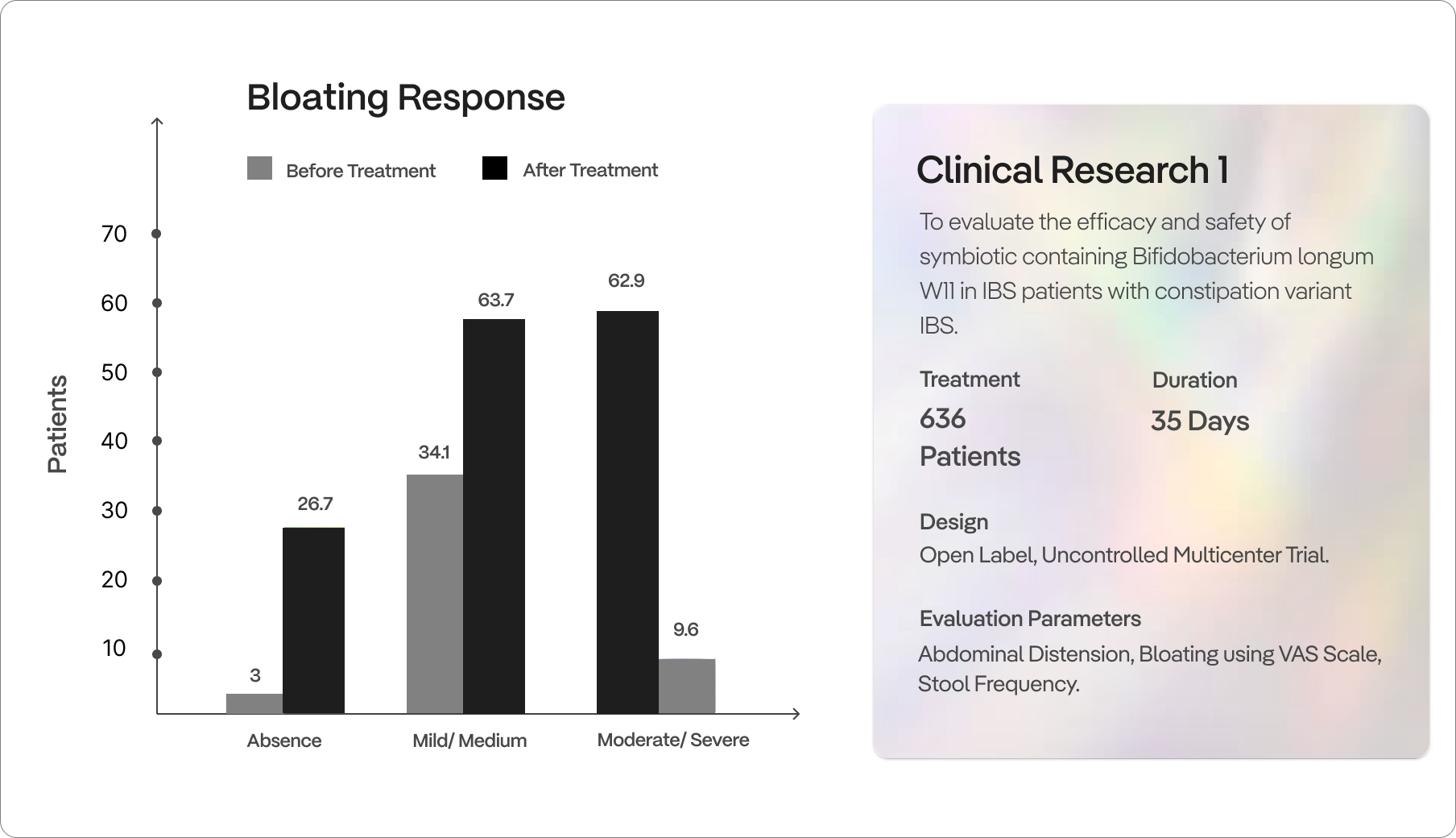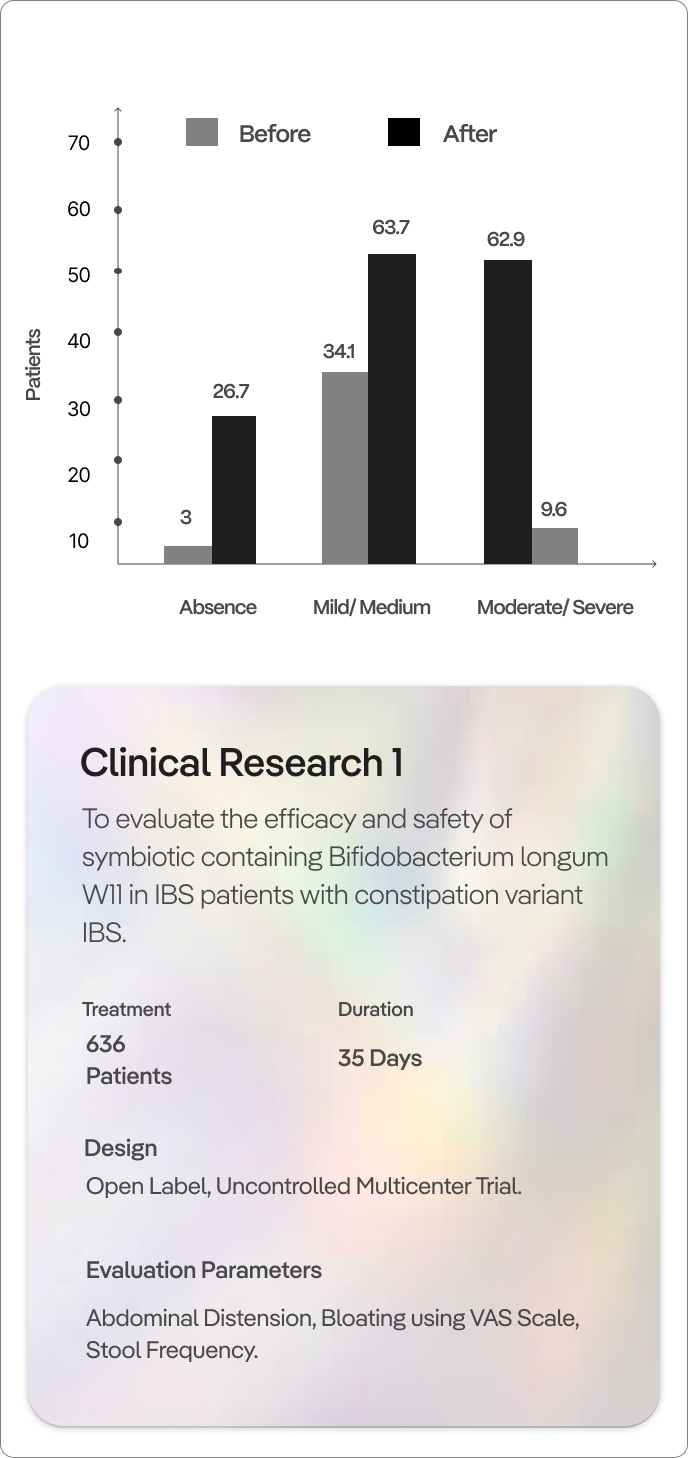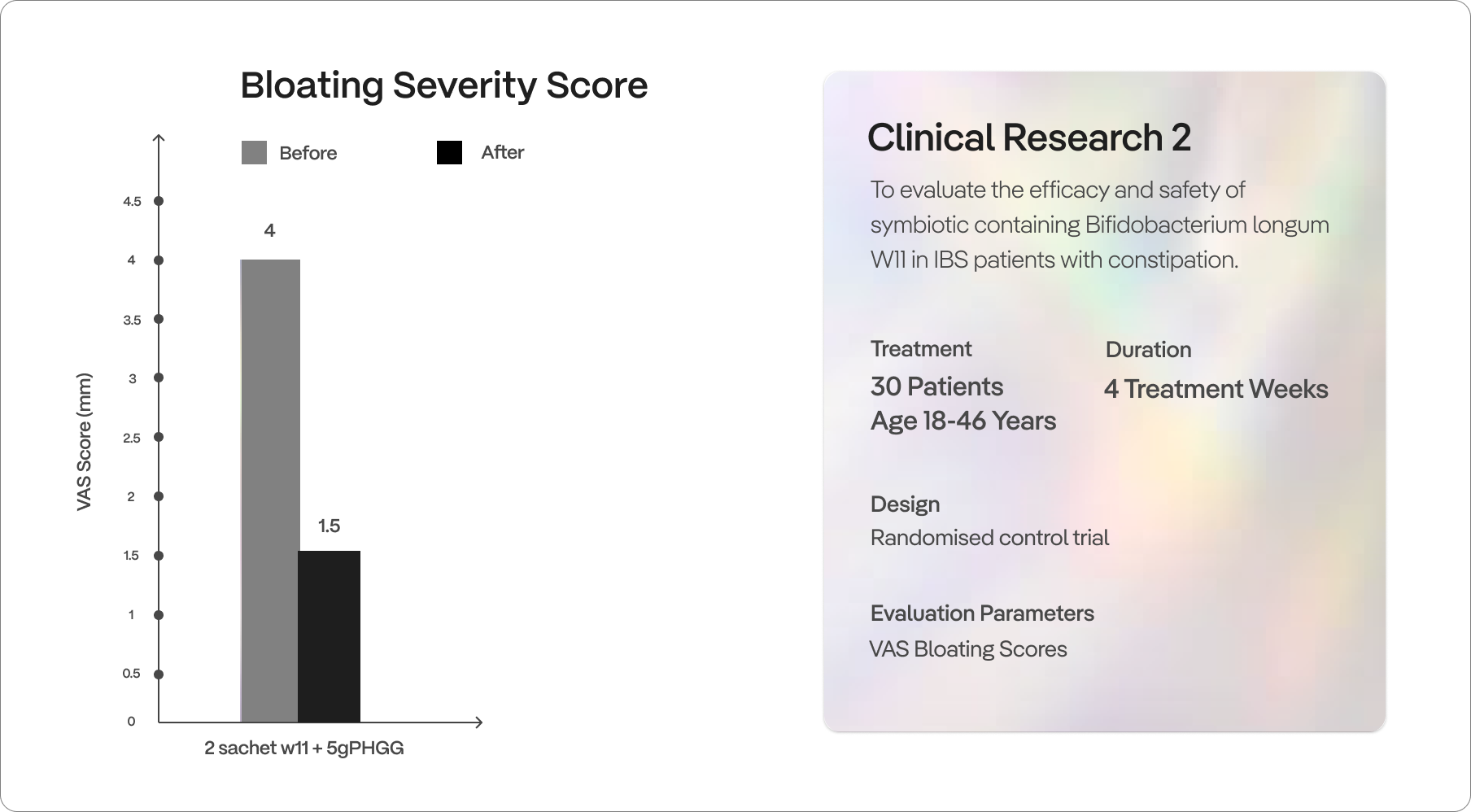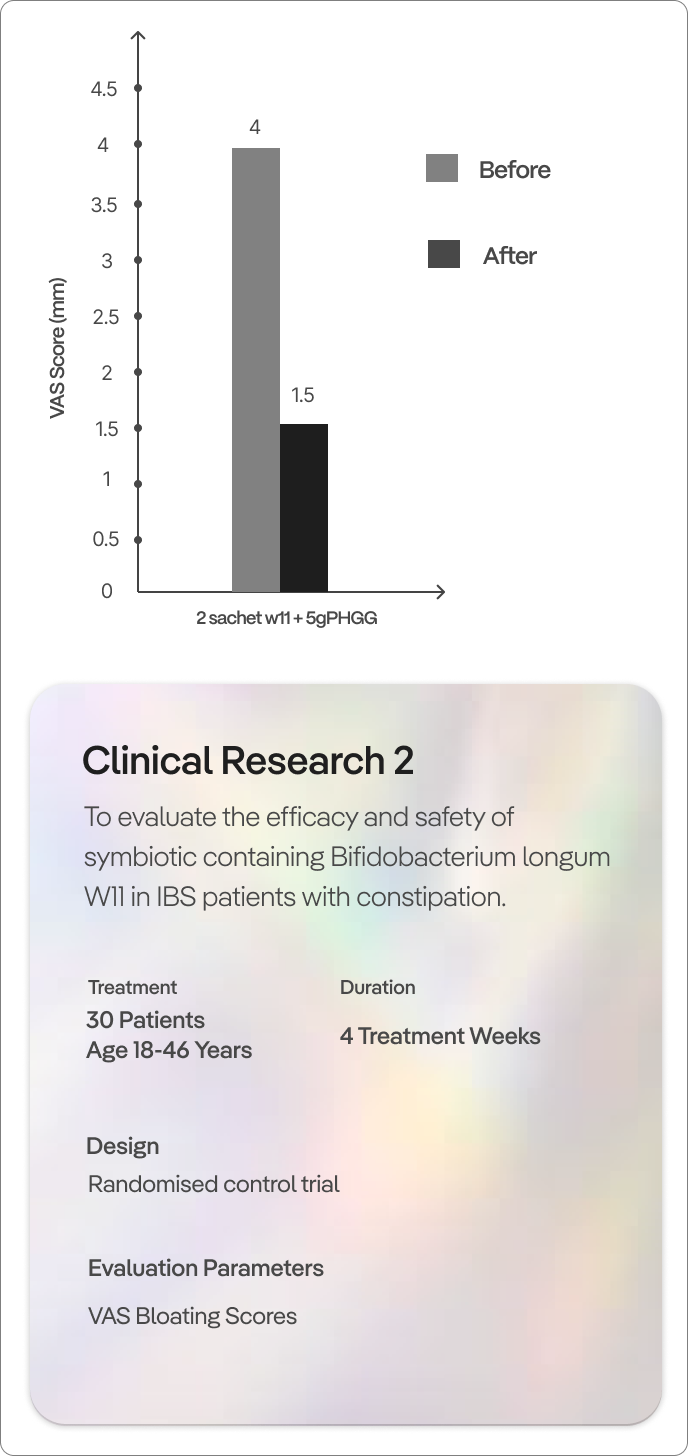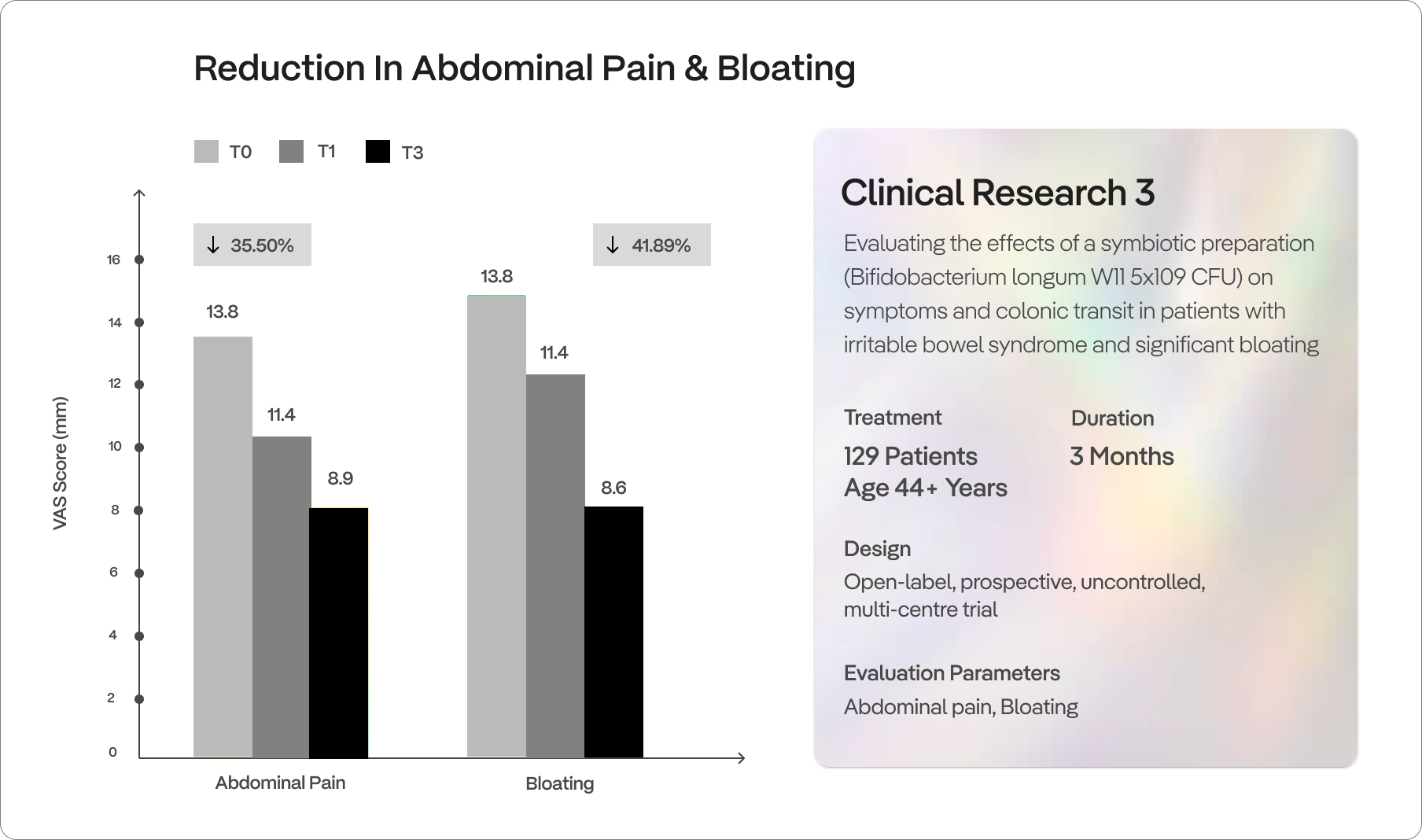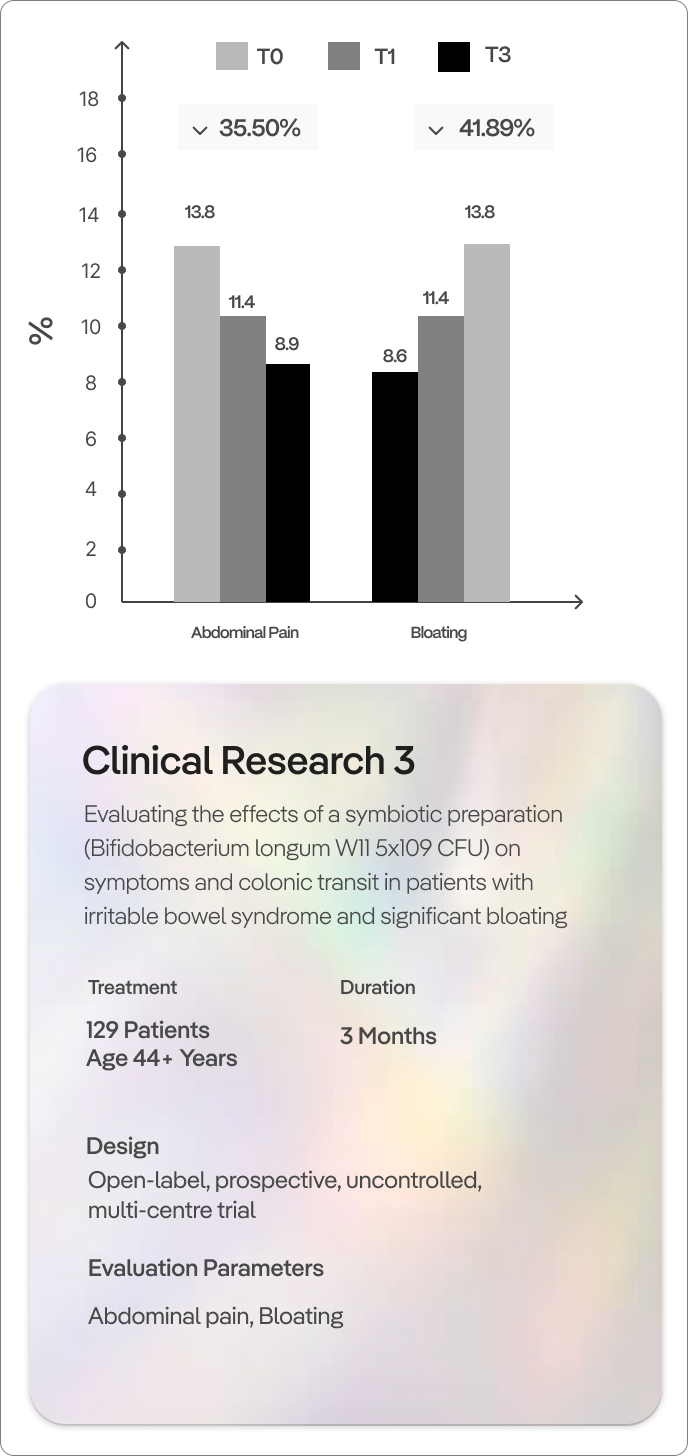 Not All Probiotics are Created Equal
Clinically Validated
Carefully chosen, well studied strains, that deliver real results.
Synbiotic Formulas
A holistic combination of Pre + Pro + Post Biotics that maximizes performance.
Live. Engineered to Survive
Patented class leading encapsulated technology, that ensures the bacteria reaches the gut, live!
Probiotics + Vitamins
Not just Pro Biotics, but your daily dose of vitamins and minerals to care for your health condition.
Mouth Melt Powders
Super Tasty Tear & Gulp One-A-Day Powders, that even your kid's gonna love.
Good way to bug the bloating
I was suffering, nothing worked during these difficult menopausal time, was under tremendous stress because I was not shedding weight despite all the diet and exercise. Then my dietitian suggested GOOD BUG's bye bye bloat . It worked like magic . Now I am consistently loosing weight and feeling light. Thank you GOOD BUG
Super Product
Hi I'm Deepa, 51, from Cochin, Kerala
I was suffering from acidity, gas & bloating issues for the past 7 years. After menopause I put on weight and my gut issues got worse. This year beginning I consulted a doctor and he said I was low in Probiotics. I took one month suppliments and then I read about Goodbug from instagram. I wanted to give it a try. So I took the trial pack. After 14 days I knew I should continue. Now after taking 4 trial packs and 1 month pack my bloating has gone down very much, acidity, gas and burping is also gone.
Initially I took bye bye bloat in the afternoon and smooth move at night because i had constipation. Then when i felt my constipation issues is gone I started using Gut balance at night. I made some changes in my food habits. my plate is mostly of millets, ragi, quinoa, rolled oats, vegetables, fish meat and egg.
When my Gut become healthier, my cholestrol, liver, uric acid and thyroid levels also started coming down. My 'forever pregnant tummy' has come down. Gas filled painful mornings are gone. No burping and no constipation. My skin looks healthier.
I will be taking this product until my gut is completely cured.
Thankyou Goodbug for bringing up such a good product. I would recommend to all who have gut issues please try these products.
very effective for bloating
I have been using "bye bye bloat" from last one month and it is very effective in controlling my bloating issue. I started with a 15 day package and immediately ordered the 3 months package after the seeing the result. I am sure this has been made with right kind of people after a good research. I have used many remedies and medicines till now but I can say this product is an end for my long lasting bloating issue. I recommend this for everyone to try this product once, starting with a 15 days trail so that you can see the difference.
Good Product
I usually don't write reviews unless I am happy with the product or frustated. I have sleep disorder and used Melatonin supplements for about an year. Those supplements give some sleep but not what you expect.
I am very happy with the Good Bug's sleep supplement. It is far superior to other Melatonin supplements I used. It gives good sound sleep. I ordered 3 months does this time.
Is Bye Bye Bloat similar to a laxative ?
No, this is not a laxative. It is a special formulation of pre and probiotics designed to support and enhance your digestion. We've also added peppermint extract which will help relieve gastric discomfort and bloating.
If my bowels don't get completely cleared at one go, can I take bye bye bloat ?
Partial bowel clearance or constipation makes it harder for the gas to pass, leaving you feeling bloated and uncomfortable, in such a case we recommend taking the Good Bugs Smooth Move.
My bowels get cleared because of intake of laxatives but I still feel bloated from time to time. Will Bye Bye Bloat help me in getting rid of the bloating?
The cause of your bloating is the fact that you are constipated. You don't feel constipated because you are taking a laxative. Without fixing the root cause (constipation) of the problem, having a probiotic supplement for the effect (bloating) rising out of the problem will not help your sort the symptom. Although you might not feel constipated due to the laxative's effects, it's crucial to recognize that resolving the primary issue of constipation is paramount. Hence we would still suggest you take The Good Bug's Smooth Move instead of Bye Bye Bloat.
How quickly does Bye Bye Bloat work?
It depends on your body type, health, genetics, diet, and a host of other factors. Some people may experience a difference within 48 to 72 hours, while it may take 2 to 6 weeks for others to see lasting results.
Why do I bloat every time I eat?
Bloating is the result of gas buildup in the intestine, especially after eating. This could be because you eat too fast and end up swallowing too much air as a result. It can also happen when you consume certain foods like beans or cabbage, which naturally produce gas as they break down. Another possible reason is that your gut microbiome is missing the bacteria it needs to break down food properly. All of these factors can cause a swollen abdomen, and excessive burping and farting.
Will probiotics give me lasting relief from bloating?
Studies suggest that daily consumption of probiotics helps restore the good bugs that your gut needs to digest food properly. This reduces the amount of gas produced in the gut and provides relief from burping and bloating.
Can I take Bye Bye Bloat with other medications & supplements?
Bye Bye Bloat can be taken along with other medications & supplements, as our products are designed to work towards full body health. We still recommend checking with your doctor when you start any new regimen, to make sure it is right for you.
The powder tastes sweet. Is it sugar-free?
Yes, our SuperGut powder is absolutely sugar-free. We have added Sorbitol, a sugar substitute, which is a prebiotic that is sweet to taste but does not increase your glycemic index or your blood sugar levels.
I'm allergic to citric acid, can I take the This SuperGut sticks?
Kindly avoid taking this product in case you are allergic to citric acid.
What does CFU count mean?
Colony forming units, or CFUs, is a unit of measurement used to indicate the number of live bacterial cells in a dose of probiotic supplement.
Does higher CFU count mean the probiotics will perform better?
No, a higher CFU count is not a guarantee of effectiveness. The strains of bacteria, delivery mechanism, and clinical research have to be considered while formulating the dose in a probiotic. In fact, research suggests that an overdose of probiotics may lead to gastric discomfort (gas, bloating, nausea, diarrhoea and the like). For all our products, the probiotic strains and their dosage have been clinically tested and formulated with utmost precision.